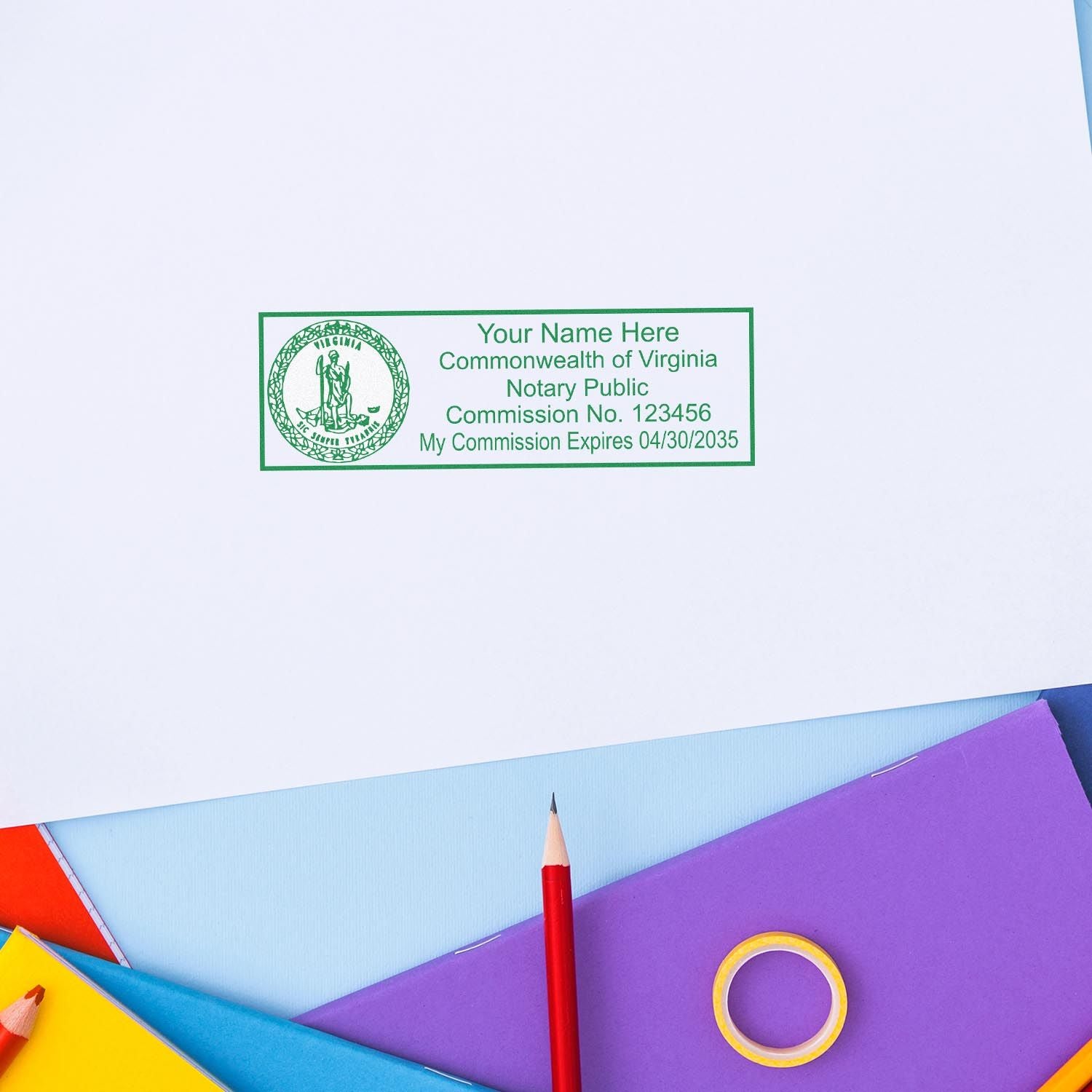 Do you need a notary public to witness and validate the signing of important documents? If you live in the state of Virginia, you'll be glad to know that several notaries can provide their services. But before you can avail of their services, you need to have the necessary Virginia notary supplies. These include a stamp, a notary journal, and some supplemental stamps. The notary seal stamp is perhaps the most important of all the supplies because it is this that will be used to validate the document. Others are also necessary to ensure that the process goes smoothly. So, if you need a notary in Virginia, make sure you have all the necessary supplies on hand.
What are the Best Virginia Notary Supplies?
Every notary in Virginia is required by law to maintain a supply of certain supplies to perform their duties. These supplies include a Virginia notary stamp and journal, as well as a notary embosser and any other notary materials needed to properly document notarizations. Notary stamps are important parts for notaries. In Virginia, there are a few different ways to get them. Many online companies sell notary stamps and supplies, as well as physical stores. Your Notary information such as your commission name and the commission number is available through the Virginia Notary Commission.
Notary Journals or Record Books
As a Commonwealth of Virginia notary, you are responsible for keeping an accurate and complete journal of all your notarizations. This important record helps you, the notary, to keep track of your notarial acts and can be used to refresh your memory if needed. It also provides valuable evidence in the event of any disputes that may arise regarding a notarization.
Thumbprint Pads
Thumbprint Pads are a great tool when you want to make sure that you are taking every security measure when notarizing a document. This "Inkless Pad" ensures that every fingerprint impression is clear without smudging and dries immediately without leaving ink on the fingers.
Notary Bonds
The notary bond protects the public from losses or damages caused by the notary's negligent or unauthorized actions. The surety company issuing the bond will reimburse the person who has suffered a loss up to the full amount of the bond. Notary bonds are not required in most Virginia to become a notary and do offer some protection. If you are thinking about it, be sure to check Virginia laws regarding bonds.
Notary Seal / Notary Embosser
As a Notary in Virginia, you are required by state law to have a notary seal or stamp. A notary seal is an embossed impression made by a stamp that includes your name and the words "Notary Public - Commonwealth of Virginia." The purpose of the notary seal is to authenticate official documents you have signed as a notary. The embosser leaves a raised impression on the paper and is available as a pocket embosser or as a desk embosser. The desk embosser is designed to make impressions with minimal effort.
Seal Impression Inker
With the Virginia State Requirements, your seal is expected to be photographically reproducible when you notarize (have the ability for photocopying) the seal impression inker is a device where you can stamp overtop the embossed image to darken this up where it is able to be photocopied.
Notary Stamps
The purpose of the stamp is to authenticate official documents you have signed as a notary, there are several stamps available for the Commonwealth of Virginia
Round Virginia Notary Stamp
Another popular Virginia Notary stamp is the round notary which is a popular choice if you like the look of a stamp that looks like a round seal.
Self-Inking Virginia Notary Stamp
A self-inking stamp features a die plate that flips up to add ink to the stamp. These stamps are good for around 5,000 imprints before re-inking is needed. Black ink is the most popular ink color followed by blue ink color.
Pre Inked Stamp
Another option for notaries is the pre-inked stamp. Pre-ink stamps leave a legible print on the page or form you are notarizing. The slim model is nice and compact and is easily carried in a purse for portability. All pre-inked stamps can have refill ink when the stamp ink color starts to run low.
Wood Handle Notary Stamp
A wood handle stamp is the best option if you plan on using this with an ink pad with permanent ink. These typically have the lowest price if you are looking for an economical option.
Where To Buy These Virginia Notary Supplies?
If you need notary products, there are a few places you can look. Depending on what kind of supplies you need, you might be able to find them at an office supply store, or online.
One option for finding notary materials is to check with your state's notary public association. They may have a list of recommended suppliers or be able to direct you to a good source. Another option is to search for notary products on the internet.
At ESS, we carry a full line of Virginia notary supplies to help you meet your state's requirements and to help you carry out the responsibilities of a new notary. Our selection of Virginia notary stamps includes options for both embossing seals and rubber stamps. We also offer a variety of notary journals, as well as other necessary stamps and seals. Finally, you can always contact a local notary public to see if they have any recommendations for where to purchase stamps. They may be able to point you in the right direction. No matter where you end up purchasing your products, make sure you get everything you need so that you can properly Notarize documents.
Benefits Of Having The Right Equipment:
When you become a notary, one of the first things you need to do is purchase supplies. This can be a daunting task because there are so many different products on the market. However, it is important to have the right tools to perform your duties effectively.
Here are some of the benefits of having the right supplies:
You will be able to perform your duties more efficiently.
Your work will be more accurate.
You will be able to avoid potential errors that could lead to legal problems.
You will project a professional image to the public.
You will be able to save money in the long run.
With the right items, you will be able to improve your productivity and accuracy, while also projecting a professional image. This can save you time and money in the long run.
Let's look at some storage tips for your stamp and equipment:
Keep your notary seal in a safe place when you're not using it. A good option is to keep it in a locked drawer or cabinet.
Store your notary journal in a dry, cool place.
Be sure to label all your items so you can easily find what you need.
Keep your notary supplies organized so you can quickly find what you need.
By following these simple tips, you can keep your items in good condition and make sure they are always easy to find.
Conclusion:
As you can see, there are a lot of factors to consider when it comes to choosing the right notary supplies for your business. By taking the time to do your research and understand your options, you can ensure that you are making the best decision for your needs.
About ESS
ESS is a lead provider of stamps and seals for the Virginia Notary. We make all our stamps up to the Virginia State Requirements, and guarantee that your products will be in compliance with the state requirements. We do offer PDF proof as an option if you would like a preview before the item is in production. Once approved most orders ship within one business day. To view our products and packages for notaries along with price simply click here