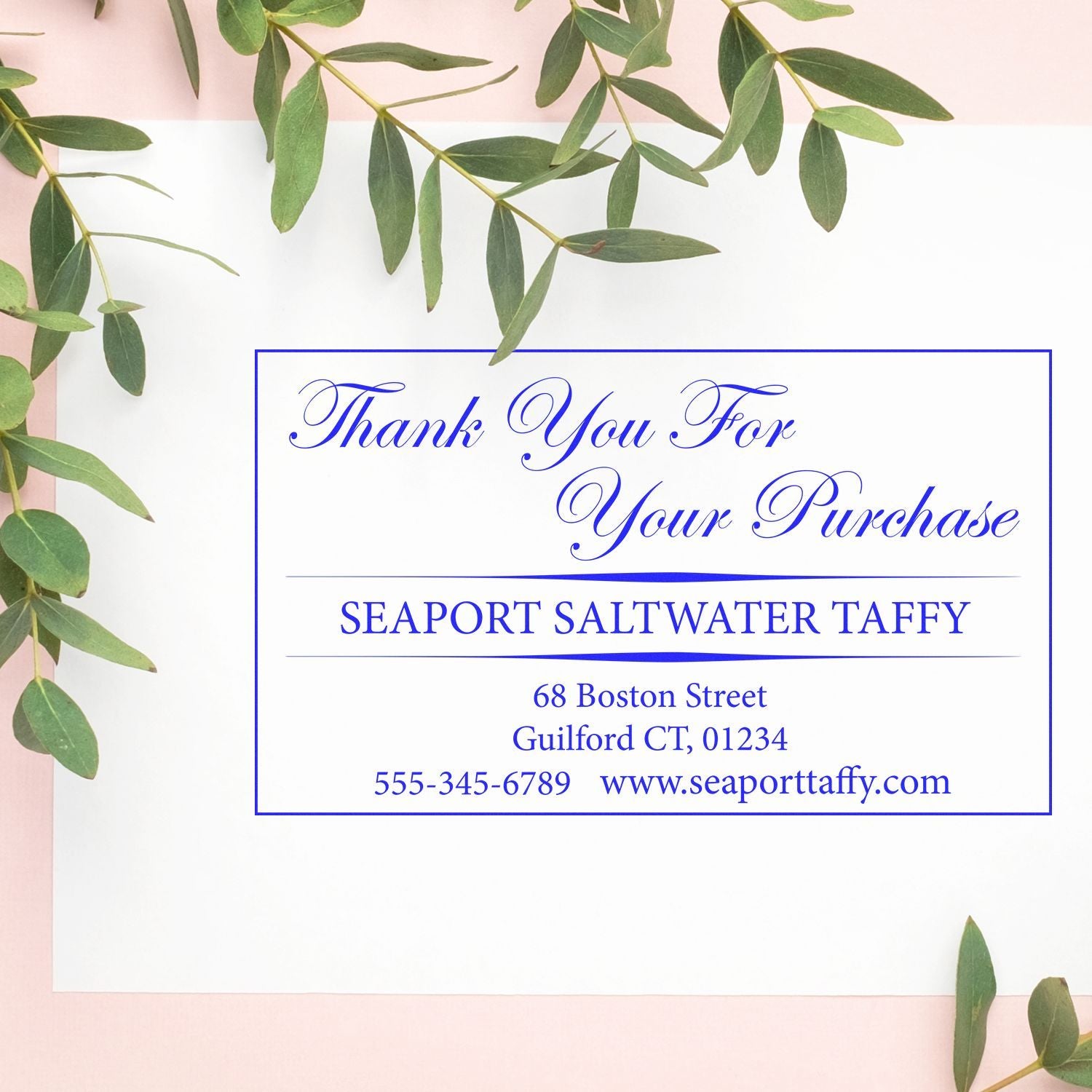 Do you need to stamp many documents quickly and easily? Do you want a customized stamp with your company's logo or other design? Pre-inked stamps are the perfect solution! They're easy to use, durable, and can be customized with any design you choose. Read on for more information on what to look for with pre-inked stamps for your needs.
What Are Custom Pre-Inked Stamps And How Do They Work?
Customized pre-inked stamps are a type of stamp that is filled with ink. They are commonly used for business purposes, such as branding or a seal of approval. To use a stamp, simply press it onto the desired surface and lift it back up. The ink will be transferred onto the paper, leaving a clear imprint. Custom pre-inked stamps can be made with any text or logo, making them a versatile and convenient tool for businesses. When the ink begins to fade, simply re-ink the stamp with more ink of the same color.
What Can Pre-Inked Stamps be Used For?
There are so many uses for custom pre-inked stamps you can use them for return address stamping or use them as business stamps with logos to help your company stand out. Since you get to upload your design and text the possibilities are endless.
What is The Difference Between Self-Inking Stamps and Pre-Inked Stamps?
Self-inkers and pre-inked stamps both have ink inside of them. Self-inkers have a laser-engraved rubber die that flips up to hit the stamp pad and then flips back down to hit the page. Self-inking stamps use regular rubber stamp ink. Pre-inked stamps use a different kind of ink and produce a richer stamp color impression. The price is comparable with a self-inking stamp.
The Benefits Of Using Customized Pre-Inked Rubber Stamps
At first glance, custom pre-inked stamps may not seem like a must-have office supply. However, these stamps are quite versatile and can offer several benefits for both businesses and individuals to create thousands of impressions.
1. Custom Pre-Inked Stamps Can Save You Time.
If you find yourself spending a lot of time addressing envelopes or signing documents, custom pre-inked stamps can help you save time. With a custom stamp, you can quickly add your name and address to an envelope or your signature to a document. This can be a huge time saver if you need to address or sign many items because they don't need to be re-inked as often as other self-inking stamps.
2. Custom Pre-Inked Rubber Stamps Can Make your Correspondence Look More Professional.
Using a custom stamp can also make your correspondence look more polished and professional. Whether you're sending out invitations for a business event or thank you cards for customers, a well-designed custom stamp will leave a good impression.
3. Custom Pre-Inked Stamps can be used for more than just correspondence.
Custom stamps aren't just for addressing envelopes and signing documents. You can also use them for marketing materials, shipping labels, and more. Get creative with your stamp design and put it to use in all sorts of ways.
4. Custom Pre-Inked Stamps Are Easy to Use.
Another great thing about custom pre-inked stamps is that they're very easy to use. There's no need for a separate ink pad - just press the stamp onto your chosen surface and you're done! They're also very portable, so you can take them with you wherever you go.
5. Customized Pre-Inked Stamps are Affordable.
While the initial investment for pre-inked custom stamps may be higher than that of a standard rubber stamp, customized pre-inked stamps are quite affordable in the long run. That's because they don't require frequent re-inking as rubber stamps do. In fact, with proper care, your custom stamp can last for years. As you can see, there are many benefits to using pre-inked custom stamps. Whether you need to save time on addressing envelopes or want to make your correspondence look more professional address stamping, custom stamps are worth considering. So why not give them a try?
How To Choose The Perfect Design For Your Pre-Inked Stamp
When it comes to choosing a design for your pre-inked stamp, there are a few things to keep in mind.
First, think about the purpose of the stamp. Are you using it for business correspondence or personal use? If you're using it for business, you'll want to choose a design that is professional and straightforward. If you're using it for personal use or a brand logo, you can be more creative and choose a design that reflects your personality.
Second, consider the size of the stamp. Pre-inked stamps come in a variety of sizes, so make sure to choose one that will fit your needs.
Lastly, think about the ink color of the stamp. You'll want to choose a ink color such as black, green, or blue that is bold and easy to read. With these factors in mind, you'll be sure to choose the perfect design for your pre-inked stamp.
Where To Buy Custom Pre-Inked Stamps Online?
Local Print Shop
Local print shops often offer pre-inked stamps but they might be sending them out for another vendor to produce. It is always a good idea to find out the production time.
Online Retailer
There are a lot of options to purchase custom stamps online. Check on the reviews to see which retailer will be the best fit for you.
Tips For Using Your Custom Pre-Inked Stamps Correctly
There are a few things you should know about using a pre-inked stamp so that you can get the most out of it. In this section, we'll give you some tips on how to use your pre-inked stamp correctly.
Keep your pre-inked stamp clean.
One of the main reasons why stamps get dirty is that people don't store them properly. If you don't put the bottom dust cover back on after each use, the stamper can get dirty and dry out, making it difficult to use.
Store in a Cool Dry Place
Keep your pre-inked stamp away from heat. Heat can cause the ink to dry out or evaporate, which will make it difficult to use. Make sure to store your pre-inked stamp in a cool, dark place away from sunlight and heat sources. Use the right amount of pressure when stamping. In order to get a clear, sharp impression on the paper, you'll need to apply the right amount of pressure when stamping. Too little pressure won't leave a deep enough impression, while too much pressure can cause the ink to smear and bleed.
Don't Store Your Stamp in Direct Sunlight.
Another reason Why stampers can get damaged is that they're stored in direct sunlight. The sun's rays can cause the ink in your stamp to fade and dry out, making it harder to use. Instead, store your stamp in a cool, dark place when you're not using it.
Use the Right Type of Ink.
Not all inks are created equal some are more suited for rubber stamps than others. If you're using a pre-inked stamp, make sure to use ink that's specifically designed for that type of stamper, instead of ink for a self-inking stamp. Otherwise, you run the risk of damaging your stamp or having the ink smudge when you try to use it.
Re-Ink Regularly
Lastly, remember to re-ink your pre-inked stamp regularly in order to keep it functioning properly. How often you should re-ink your stamp will depend on how much you're using it, so make sure to check the instructions that come with your pre-inked stamp. Pre-inked stamps are a great way to save time and hassle when rubber stamping. However, there are a few things you should know about how to use them correctly so that they last longer and continue working well. By following the tips above, you can get the most out of your pre-inked stamp and avoid any problems down the road, where you have to replace the item.
By following these simple tips, you can ensure that your pre-inked stamp is being used correctly and will last a long time. With the right care and maintenance, your custom stamp can last for years. So why not give them a try?
Conclusion
Are you in the market for a customized pre-inked stamp? If so, you've come to the right place! At our online store, we offer and sell a wide variety of stamps that can be customized to fit your needs with overnight shipping options available. Whether you need a stamp for your business or personal use, we have something for everyone. Additionally, our stamps are made of high-quality materials and feature long-lasting ink. So, what are you waiting for? Shop with us today!
About ESS
At ESS, stamps are our specialty. Whether you need lines of text or need to add your own image, we can create a stamp for you. Check out our website to view all of the stamps available to purchase or to check prices so you will not be disappointed. We guarantee high-quality products that will last for years and offer overnight shipping options so you can get your stamp images right away. Contact us today to learn more about our pre-inked stamps! We look forward to hearing from you. Shop with ESS now for all of your custom stamp needs!